New! Foraging & Feast
Join ethnobiologist and functional herbalist Hayden Stebbins for a walk through our forest and fields to see the world in a way you've never seen before. During this walk, Hayden will teach you about common introduced and native plants, how to identify them by family, and their edible, medicinal, or poisonous properties. You and the group will harvest edible plants as you go and bring them to the pavilion where you and the group will prepare a multi-course meal combining the harvest with regular food. This will include a wild plant pesto, hummus, a couple teas and an extra dish depending on what plants and mushrooms are found.
If you would like to take notes (there will be a lot of information shared), bring a notepad and pen. Wear appropriate clothing for a relaxed walk and weather, but most importantly, bring a big appetite and a curious mind!

Click here for a wonderful article on foraging with Hayden.

Saturday, June 2, 2018 from 10 to 12:30
Please register by May 26 (an additional $5 for supplies will be collected on June 2)

Just $25 per class ($20 for our farm members) Pre-registration is required.
Limited scholarships are available, please inquire.
Not a member? Click here to become one, support our farm, and earn discounts!
To register, click here.
FREE! Family Nutrition Lesson Series: Saturdays, August, 11, 18, 25 and Sept. 1, 8, 15, 22, 29  Click here for more details.
Canning & Food Preserving  and Nutrition Classes
Learn the art of home canning and preserve your garden bounty or produce from any of our local farmers markets or even join Phillies Bridge CSA (Community Supported Agriculture.) Whichever you chose, we will teach you how you can eat local food throughout the year. At each session you will benefit from samples to taste, handouts & recipes and time for Q & A to help you become a confident canner.
Introduction to Food Preservation: Saturday, June 16, 2018 from 10 to noon Please register by June 10 With Susan Loxley
Learn the basics, what should you can, jam, freeze, pickle or dry? Understand what equipment you need and the process… it is safe, easy and it is not rocket science!
Pickling, Jams & Jellies: Tuesday, July 17, from 6-8 PM
Please register by July 10 With Susan Loxley
What to do with fruits? What are the secrets to good pickles? Ideas and how to's for wonderful homemade goodies. Enjoy them yourself or they make wonderful gifts.
The Big Tomato: Saturday, August 11, from 10-noon
Please register by August 3 With Susan Loxley
Salsa, sauce, sun dried…. or just simply canned? Learn how you can be enjoying home or farm grown tomatoes throughout the year.
Introduction to Pressure Canning: Saturday, Sept. 15, from 10-noon
Please register by Sept 8 With Susan Loxley
Get over the fear of pressure canning and preserve healthy soups, stews, vegetables, meats and other low acid foods. Learn the basic science and how to's, see what equipment you need and a demo of the process.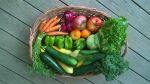 End-of-the-Season Ideas: Saturday October 6, from 10-noon Please register by Oct. 1 With Susan Loxley
Recipes & directions on ways to preserve the fall bounty of fruits and vegetables. You can make delicious chutneys, varieties of jellies & jams and dry & freeze – we will teach you how.
When Susan joined Phillies Bridge Farm in their inaugural season in 1994, the need to preserve was re-ignited when the bounty of vegetables started flowing. She knew the basics and began canning and pickling.  Wanting to master more, Susan took courses with Cornell Cooperative Extension  (Master Food Preserver) and the University of Georgia National Center for Home Food Preservation. She has been teaching this series of classes for over 10 years, and still competes by entering her preserves, products. and pickles at the Ulster County Fair and Rosendale International Pickle Fest
Contact Susan sloxley@hvc.rr.com or 845-255-9317 to receive updated emails about our canning and food preserving classes.
Don't see what you'd like to learn? Please contact us!
Just $25 per class ($20 for our farm members) Pre-registration is required.
Not a member? Click here to become one, support our farm, and earn discounts!
To register, click here.
Classes are held at Phillies Bridge Farm, 45 Phillies Bridge Rd, New Paltz NY 12561
Please contact us if you have any questions.