All field trips include a morning lesson, and a self-guided trip on our nature trail.  Groups are welcome to bring lunch to enjoy as well.  Trips can be tailored to grade levels K-12, and can vary in length from 1 to 4 hours.  If you have a particular topic you would like to study on the farm, please let us know! We are happy to accommodate and have a variety of lessons available. 
Farm Tour: Available in September, October, April, May, and June, this trip covers a general overview of the farm, with small groups rotating through our education garden, discovery garden, animal enclosures, and worm bin.  We recommend two hours for this trip, which includes time for snack (not provided) and brief activity or nature trail walk afterward.
Sow and Grow: Available in spring starting in March.  During this field trip, your students will learn all about the way plants start on a farm. They will visit our greenhouse and experience firsthand the nurturing environment a greenhouse creates for a plant during the fragile beginning of its life cycle. Students will plant their own seeds and leave them on the farm in the greenhouse to germinate. Teachers have the option of scheduling a second field trip back to the farm to come see the growth and/or repot the young plants.  Once complete, teachers can come back to pick up the plants.  This trip can be started in the classroom for older groups as a cross-curricular activity, with crop planning, estimating growth rate, germination time, and survival rates of transplants.  The baby plants can be sold at a student-run or PTA plant sale once the activity is complete!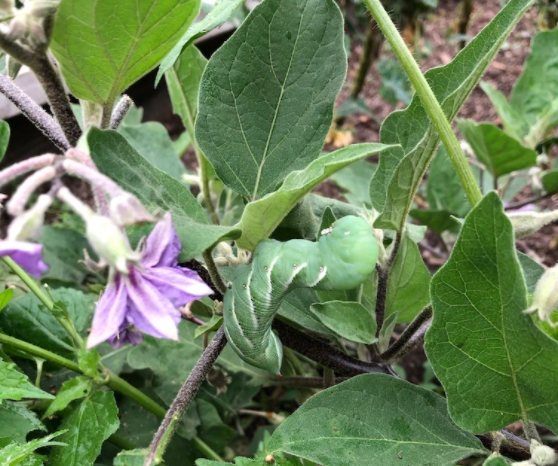 Insect Scavenger Hunt: There's no place like a farm to learn about bugs! During this trip, students will be divided into several groups. Each group will visit a different location on the farm (compost pile, decaying logs, leaf piles, and so on) and collect as many different insects as they can find. Later, the groups will come back together, share their findings and learn all about the insects they collected and what their roles are on the farm. This activity is appropriate for ages K-5, and can be adapted into a STEM activity for older groups to estimate the insect population on the farm. This activity can be very helpful on the farm when managing pests. 
Foraged Art: Similar to the style of Andy Goldsworthy, students will use natural materials to create impermanent works of art. This field trip will begin with a talk about foraged art, and a review of some examples. Students will then walk around the farm, collecting materials in different colors to use for the creation of their own piece. Then they will choose a place on the farm to bring their land art to life.
When is the best time to visit?
Mid-May through October is the best time to visit as this is the period when the farm displays the most vibrant plants, although there are always things to do on the farm! Our goats are with us from April to November, and we usually start baby chicks in the spring.  Our laying hens stay year round.  
Where is the farm?
Conveniently located between New Paltz and Gardiner, NY, our farm includes five acres of organically-grown vegetables and berries, an enchanting children's garden, a greenhouse, an historic farmstead, farm animals, inspiring views of the Shawangunk Ridge, a nature trail winding through forest and wetland, and a pole barn to protect against the elements for your lecture.
Who do we serve?
We are committed to providing quality educational programs for people of all ages. We welcome visitors from nursery schools, public or private schools K-12, homeschooling groups, college classes and clubs, youth and scouting groups, camps, and nonprofit agencies.

About us
Phillies Bridge Farm Project has hosted school field trips and other groups at our farm for over a decade. Our 65-acre nonprofit working farm provides hands-on opportunities for visitors to experience where their food comes from.

Please contact us for more details.