During week 3 we had so much fun getting to know many new faces, and of course enjoying some familiar ones as well!  We all took turns feeding and caring for our animals, and the garden started bursting with summer crops, which gave us lots of opportunity for harvesting, and WEEDING! Our goats are learning the ins and outs (literally) and have figured out the "outs" which makes for a fun and hectic time trying to corral our herd of 9 back into their pen, but always amounts to lots of laughs and screams of excitement.
Our week began with a look at the animals of New York State, as our theme of indigenous studies emerged.  We challenged the kids with a game of charades to guess animals that are native to our area. We then headed out to the nature trail to look for animal prints and found a few, but much of our land was still too wet from all the rain to hold any prints, so we sent home a print-making kit and hope you all had fun finding your own!  Our older group also helped us set up a trail cam, but the only faces we've seen thus far (in addition to a deer) have been quite familiar!
We continued with a look at indigenous plants, as Fina taught us about some we have in our garden, including Joe Pye Weed, which can repel mosquitos when the flowers and stems are burned! The kids enjoyed picking, and did so very conservatively so we didn't hurt the plants or destroy our pollinator bed by harvesting all at once.  They then made some herb drying racks to bring home. We hope you can continue to find native plants to dry and use, and feel free to grab some more Joe Pye if you need it for those pesky bugs!
Lucy explored the concept of tool building through the lense of the shelters of the Iroquois Nation and the Lenape tribes, and also discussed how available resources were used in other parts of the continent to build different styles of dwellings.  After a discussion, the children explored the resources around the farm, and built their own shelter models using what resources they could find.
Julia had a lot of fun exploring native crops with the kids. We all worked together to make a delicious salad made of corn, squash, and tomatoes. Each group worked to prepare a part of the salad, and our older group whipped up a tasty dressing with some herbs from the farm, and were in charge of helping everyone to combine their contributions.  It was a pretty amazing display of teamwork and a delicious reward for our efforts!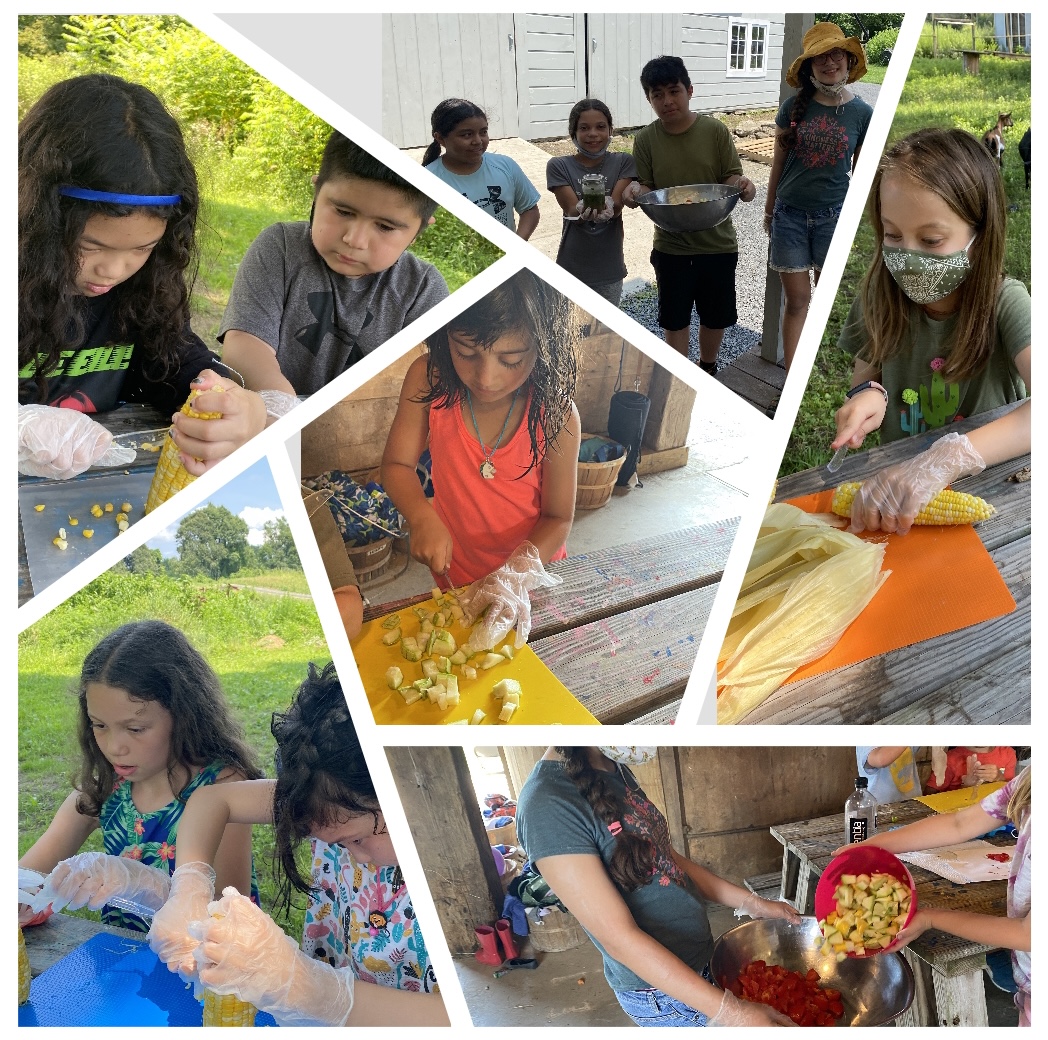 Micaela finished the week with a look at a modern indigenous artist, John Nieto, who uses strong and vibrant primary colors in his work.  The children looked at some pieces and were prompted to create their own piece in a similar style.  The results were stunning!
We can't forget to include here how much fun we had PLAYING on the farm! We played noodle amoeba tag, held water relay races, and played some soccer and kickball! We also took a few walks on the trail, explored the greenhouse, and found some cool insects. We had so much fun and can't wait for next week!  Thanks to everyone who joined us and made this week super special!