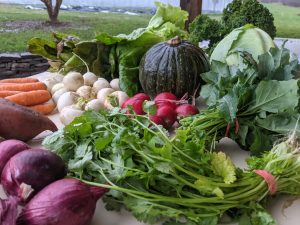 We are excited to offer winter CSA shares for the 2022-2023 season!
The winter share includes a diversity of greens, herbs, roots, onions, garlic, and winter squash. Winter production has to overcome extreme growing conditions and long storage; therefore, the variety is determined by what can be grown in this region in the winter. You will be rewarded with some of the sweetest tasting spinach and kale you have ever eaten and herbs so fresh it will feel like summer in your kitchen.
There is a seasonality to these winter crops. Larger bunches of greens and heads of lettuce will be common in December, while deeper winter gives way to smaller cut greens and unique specialty greens. Similarly, winter squash will be plentiful for the first few months, but likely won't store into March.
Winter CSA is only available to Phillies Bridge summer CSA members and is limited to one share per household.
22 weeks of vegetables, picked up every other week* Dec – April
*3 week gap between Dec 16th and Jan 6th
Flexible pickups on the farm, Friday & Saturday
About half storage crops and half fresh greens from our high tunnels
One share size: the total quantity of vegetables in our winter share is roughly the amount of a small summer share, picked up in double the amount every two weeks. This will be roughly 14 items per pickup, approx. 10-14 lbs storage crops and 2-4 lbs of greens
Shares are pre-packed without options.
Price: $550
Shares may include:
Greens

Spinach – often
Kale – often
Chard – sometimes
Head lettuce – often, early winter
Escarole – occasional, early winter
Bok choi – often
Arugula – often
Mustard mix – often
Specialty greens – occasional
Herbs – often
Salad mix – occasional, deep winter
Kale rapini – often early spring
Cabbage – occasional
Baby radish – occasional, April

Storage

Winter squash – often
Carrots – often
Beets – often
Potatoes – often
Daikon radish – often
Watermelon radish – often
Sweet potatoes – often
Garlic – often
Onions – often
Parsnips – occasional
Celeriac – infrequent
Rutabaga – infrequent