Please sign up for our newsletter at the bottom of the page to receive our 2020 workshop updates.
This page is updated monthly – please revisit again!
Do you have a skill you'd like to share with us? Please let us know!
 _____________________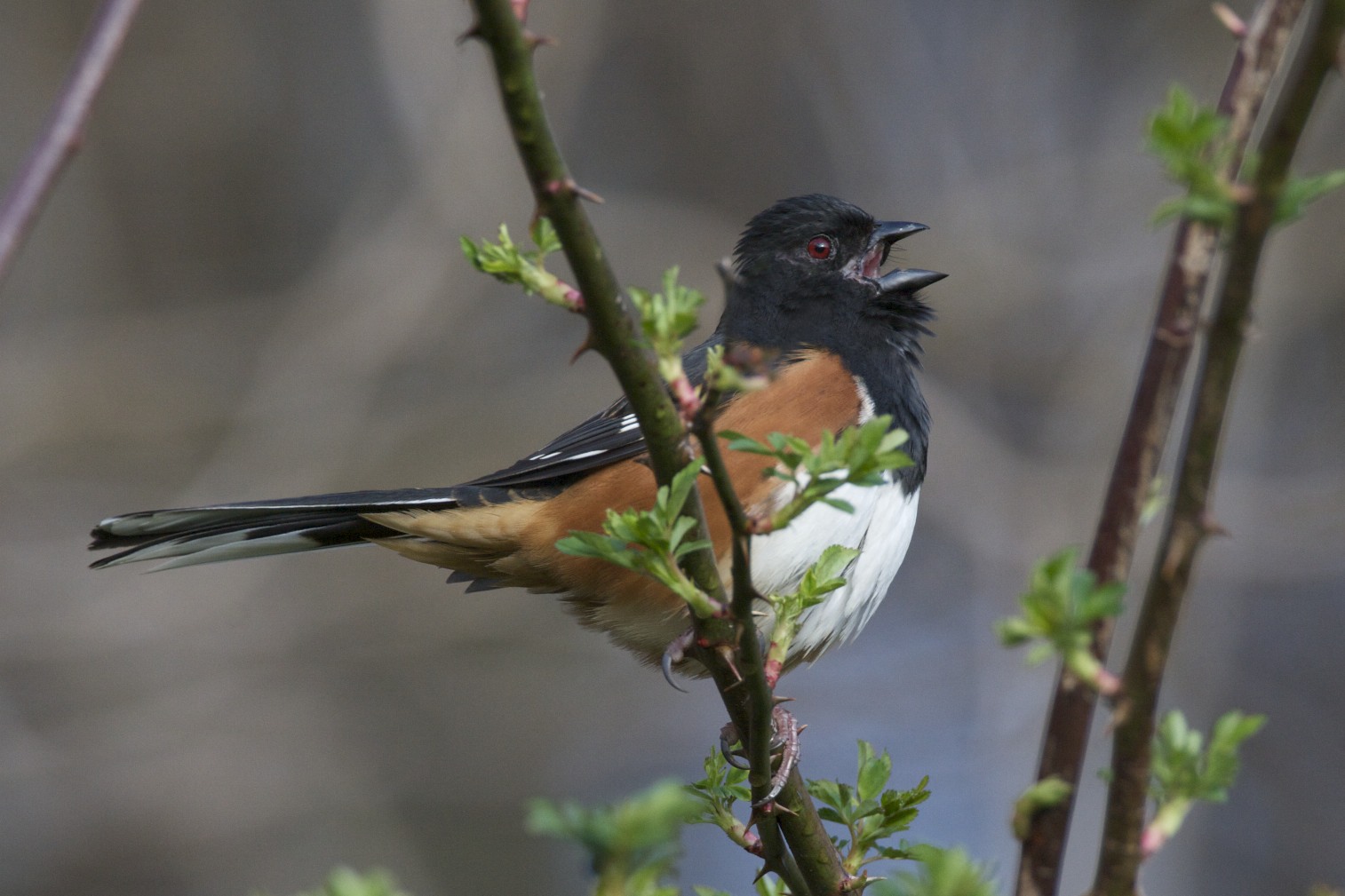 Blue-headed Vireo                     Purple Finch                    Towhee 
Spring Birdwalk!
Saturday, April 18th, 8-11 AM
with Mark DeDea
Pre-registration required – space is limited – we will enforce the 6′ apart rule for everyone
All birders look forward to the annual procession of spring migrants when birds are in their most splendid breeding plumage and are singing their hearts out.  In our region this spectacle starts in earnest in mid-April with the arrival of birds that have wintered in the southeastern United States. This is a great time of year to get acquainted with our feathered subjects; how to identify them, when they'll arrive, where to find them, and what species to expect. 
We ask that all who plan to participate are forthright about their health and takes advised precautions to prevent contact with or spreading of the Coronavirus.
We will suspend the common practice of sharing scopes and binoculars. Please bring your own.
With Mark DeDea, President, John Burroughs Natural History Society
The John Burroughs Natural History Society is now in it's 70th year of providing free public field trips and programs on all disciplines of the natural world.  Visit their website or like them on Facebook to find out more information about year-round schedule of outings.   
Photos by Peter Schoenberger 
Please register by April 15th, by donation.
_____________________

Vermiculture!
Saturday, July 11th, 10 AM – noon
with Alexi Bolton
Pre-registration required – space is limited
In this workshop you will create your own vermiculture bin. Vermiculture, or composting with worms, is a convenient way to compost indoors. With a container, some shredded newspaper, food scraps and some red wiggler worms, you can decrease the amount of waste you send to the landfill as you create nutrient rich compost for use in the garden. We will provide you with all the materials you need to get started, as well as some tips for maintaining a healthy compost system. Please feel free to bring kids along to join in the fun!
Alexi Bolton is a board member at Phillies Bridge and a garden educator at the Mill Road Elementary School in Red Hook. She teaches core subjects through hands on activities in the garden and classroom, and has helped the school develop and maintain a school-wide cafeteria composting program.
  _____________________
Not a member? Click here to become one, support our farm, and earn discounts!
Don't see what you'd like to learn? Please contact us!
Pre-registration is required.
Mohonk Preserve Members get ONE adult workshop at no cost!

Classes are held at Phillies Bridge Farm, 45 Phillies Bridge Rd, New Paltz NY 12561
Please contact us if you have any questions.